Alex van de Pony Hoeve RS 644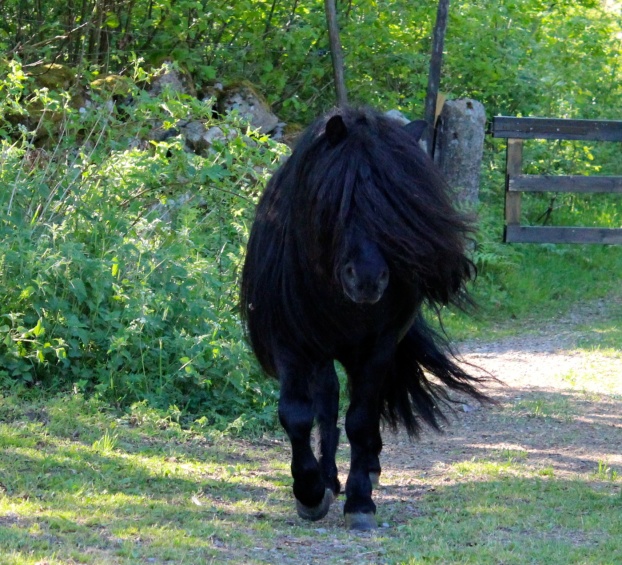 'Alex'
- Licenced for breeding in
Holland, Sweden and Norway!

Born: 19th of May 2007 in Holland
Regnr: NL-S1139730/ SE38070774
Colour: Black, white markings
Measures: 102.5cm/17.5cm

F: Gresini v.d. Veldhoeve NL-S 080-2789
(1 premium, lifetime approved)
M: Vivianne v.d. Pony Hoeve NL-S 110717
(Kroon, Preferent)
MF: Falk v.d. Tienmaatsweg Nl-S 0800-487

Breeder: A. Dibbits, Stal de Ponyhoeve in Horssen, NL.
År 2010 (3år) i Holland (NL):
Godkändes med 1:a premie
Bästa nygodkända 3-åring - groote maat

År 2011 (4år) i NL:
1:a premie
Bästa 4-åring
Champion groote maat

År 2012 (5år) i NL:
1:a premie
Champion Groote maat
All Over Champion
Champion of Honour

År 2013 (6år) i Sverige (SVE):
Godkändes för avel med 99889=43p
Champion Hingst
Bästa gångart
Best in Show med 99889=43p.

År 2015 (8år) i SVE:
Champion Hingst x 2
Best In Show med 99889=43p x 2

År 2016 (9år) i SVE:
Champion Hingst
Svensk Utställningschampion - SUCH
Svensk SUPERutställningschampion -SuperSUCH!

Generalmönstring:
Bästa mönstringshingst
Högst bedömda på AV med 99889=43p.
Placerades 1a/13 hingstar.
Erhöll höjning till avelsvärde A för sin goda nedärvning i Holland.

År 2017 (10år) SVE:
Champion Hingst
Bästa behåring

År 2018 (11år) i Norge (N):
Godkändes i N med exteriörpoäng:
Typ: 10
Kropp: 9
Ben: 8
Rörelser: 8
Helhet: 9
=44p
Avelsvärde: 1a premie med kvalitet 1.

Alex @ Hengstenkeuring Holland
I Holland födda 2011-2013 (121 levande föl). Äldsta avkomman är år 2016 endast 5år gammal.

Under åren 2010-2012 betäckte Alex 159 ston varav 121 föl registrerades.

3 godkända hingstar:
Edo v.d. Pony Hoeve (1a premie)
Gradus v. St Nieuwmoed (1a premie
Guido van Stal het Hurkske (1a premie)

68 st avkommor med Fölpremie (Veulenpremie) (41 ston, 17 hingstar)
41 st avkommor med Ettårspremie (Enterpremie)
36st avkommor med Tvåårspremie (Twentepremie)
13st avkommor med 1:a Premie
7 st avkommor med 2:a Premie
8 st Kat A stambokförda hingstar varav 3 godkända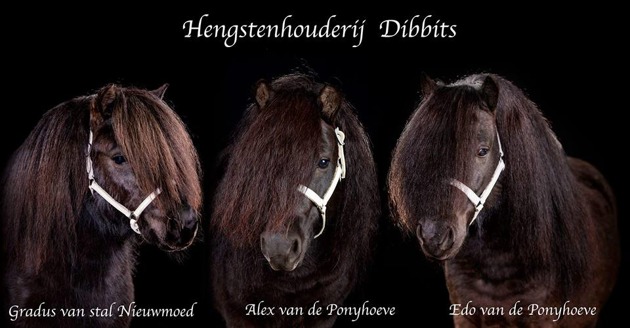 Photo: Astrid Dibbits, Stal de Pony Hoeve (Alex's breeder)
ALEX with his two of his approved sons!
--------------------------------------------------------------

I Sverige födda avkommor

Under åren 2013-2015 betäckte Alex 38 ston varav 26 föl registrerades.

2st föl visade med guld (41p)
2st föl med silver
3st föl erhållit Champion

2st 1-årigar visade med guld (42p)
4st 1-åringar visade med silver
3 st 2-åring visad med guld
1st 2-åring Champion Minior (42p)

Under 2017 har Alex erhållit 5 diplomdöttrar av 5 visade!
Under 2018 har Alex erhålit 1 godkänd son i Sve och 1 i NL. Han har fått ytterligare 2 diplomston och ett klass I med guldmerit.

På stuteri Jäborders sida finns att läsa om Alex fantastiska stam och här finns hans farmor Camora v.d. Veldhoeve presenterad.

http://www.jaboruder.se
Camora v.d. Veldhoeve
Foto: Stuteri Jäboruder
Alex kom till oss i januari 2016 från Dalsgårds stuteri, som importerade honom till Sverige 2013.
Alex är som en gåva! Han kan titulera sig bland de framgångrika hinsgtarna i Holland och är flerfaldig Champion i både Holland och Sverige. Hans avkommor visar framfötterna gång efter annan.Han har tre godkända söner i Holland och massor av premiedöttrar. I Sverige gjorde han det storaktiga att få 5/5 möjliga diplomdöttrar av hans första årgång 3-åringar! Hans första godkända son i Sve gick igenom hösten 2018.
Under 2018 lät vi Alex premieras även i Norge och han är nu godkänd (med licens) i tre länder!